Pulsar watches are designed for both men and women and are distributed all over the world by the Japanese watch giant, Seiko. They are known for their quality, durability, and eye-catching designs. After all, the company itself has always kept its designs modern by releasing new innovative complications with each new model.
Pulsar watches burst onto the world market, designed by the Hamilton Watch Company, with the first ever LED watch, in 1972. Since then, Seiko revived the name, in the 1980s, and created a brand synonymous with adventurous and leading edge design. Today, Pulsar continues the Seiko tradition with new collections that are as individual, as distinctive and as desirable as any in the brands history.
We know that your Pulsar watch is important to you and understand that the sentimental value more often than not outweighs the monetary value. Our expert watchmakers strive to make sure your watch can be worn for many years to come.
Not only can we take preemptive measures to keep your watch running for a long time, but we can restore watches that have seen better days. We are willing to hunt for rare parts. We have done many repairs that others have given up on. No job is too big or too small and we can do any repair on any watch. Our repairs can be as simple as a battery change, pin replacement, or band replacement, and can be as complicated as a dial refinish, a band/case polish, movement clean and overhaul and even a complete restoration.
We have a simple process for mailing your watch to us, our estimates are free and we offer free return shipping on repaired watches.
Times Ticking began in 1983 as a retail store and repair center for watches and clocks. We have expanded over the years to more retail stores and a separate repair center that accepts watches from all over the world. We have personalized customer service, which we are very proud of, and feel that this is what sets us apart. We have an extremely high customer satisfaction rate and also a high return customer rate.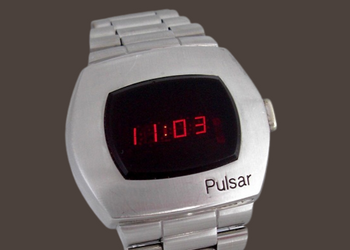 We can service any style of watch. Look over our list of brands that we can help you with.
⭐⭐⭐⭐⭐ 
Jane Murray




I found Times Ticking on the internet.  The last time I had a watch repaired locally it cost more than the watch did new.  I got it back just like new 2 weeks later and 2,000 miles away.   

HIGHLY recommended

. Times Ticking was prompt, inexpensive, and even phoned when they got my watch and told me in advance what it would cost to repair. 
⭐⭐⭐⭐⭐ 
Keith Kerney




Their service was

grade A

!!! They're quick and professional;  they always kept me updated with status of my watches. Their work is flawless which they stand behind, to me most importantly. They speak to you as if you're an old friend asking for help; in which they're always happy to do. Times Ticking; a place where you can ask an old friend for help.
⭐⭐⭐⭐⭐ 
Drew Wilson
I sent Times Ticking my 30 year old 
Pulsar
 watch for repair of a broken crystal after an authorized Pulsar repair center told me parts were unavailable. I have received many compliments on the watch as it is often mistaken for a Movado, and I really wanted to keep it. They replaced the crystal, installed new battery, cleaned the watch, and tightened clasp. The process worked exactly as explained and watch was returned repaired in about a week. Watch is beautiful again, and I am very happy with the pricing and service. 
Recommend very highly
.

Easy to do business with, no surprises, and they do what others can't.
⭐⭐⭐⭐⭐ T Cannell
Total web transaction, found with a search engine for my seemingly rare Lopex III. Prompt replies, good price, swift shipping
. More like a big e-tailer in response and fulfillment than a locally owned small business.
⭐⭐⭐⭐⭐ Dianne Stevens
I have an old (but in very good shape) Pulsar
 watch, and discovered one
day that the glass was missing. Because they no longer had glass of that age, a local jewelry store suggested that I contact you and, even though I live in New York State,  your company sent it back to me with the correct glass installed very quickly and very well done. 
I'm so happy
 to be able to still wear that treasured watch!
⭐⭐⭐⭐⭐ 
Kent Bolin


Outstanding

in every way.  TT exceeded all of my expectations…and my old watch is working like new

 
⭐⭐⭐⭐⭐
Nameless Ghoul
I never believed in miracles until the day I got my watch back. I never thought I would see it working again, but they made it happen.
I am extremely happy
with the work they did, and I definitely appreciate all the research they did to make this small miracle happen.
⭐⭐⭐⭐⭐
Shirle Freeman


I found Times Ticking as the result of an internet search. I read some of the reviews and decided to send them my Pulsar Watch (it needed a new crystal face and a crystal stone on the bezel replaced). I sent the watch USPS priority on a Friday and was notified that it had been delivered on Monday. I received a call from Times Ticking the next day that it had been received and would be looked at by a tech and I would receive a call with the results and estimate. I think it was about a week before I got the results; the watch also needed a good cleaning, gaskets and the battery replaced. I was thrilled with the very reasonable estimate and gave them the go-ahead to fix it. I was told it could be up to 2 weeks before I received the watch but…..it was only a week before I got my watch in the mail. It looks and runs just like the day I bought it new. I am

completely satisfied

with Times Ticking and will most certainly use them again if necessary.



⭐⭐⭐⭐⭐ Brian Rudnicki
Very satisfied
with my experience. My favorite watch is now back running and working perfectly. I was a little leary as we are in GA and they are not but they were very timely and easy to communicate with so it all worked out great.
⭐⭐⭐⭐⭐
Ellen Hymes
Needed to repair my 20 year old beloved "Moon/Sun"
Pulsar
watch when a local jeweler put in new battery and the watch still did not work. Found Times Ticking through a Google search and sent it to them on a leap of faith. Within day I received a call from a repair professional, I agreed to the repair cost, and a week later I received my watch. Been wearing it ever since and am
very happy
. So glad I found such a reputable service professional. So glad I did not give up on my favorite watch!
⭐⭐⭐⭐⭐
Peter K




I highly recommend Times Ticking for watch repair. Jesse & crew know their stuff and even take the time to talk with you. They communicate very friendly/professionally and most of all the prices are more than fair for such craftsmen skills! My opinion: They are like

the American Restoration of watches

.
Copyright 2023 Times Ticking